Greeting
The 34th Annual Meeting of Japan Society for Surgical Infection
We are pleased to announce that the 34th Annual Meeting of Japan Society for Surgical Infection will be held at Kitakyushu International Conference Center in Kitakyushu, Fukuoka on Friday, December 17th, and Saturday, December 18th, 2021.
Since last year, the worldwide pandemic of coronavirus has continued to make a tremendous impact on our society, and not to mention the medical field. We would like to express our greatest gratitude to the medical front workers and others who are battling every day to fight this virus. This unprecedented threat from the virus will bring a substantial change to both our society and the medical field. herefore we have decided the meeting's theme to be "The Management of Surgical Infection during the Coronavirus Pandemic". The meeting's purpose is to provide an opportunity to learn about the changes and reforms in the management of surgical infection during the pandemic. We hope to gather our intellect to utilize the knowledge in today's clinical practice and to share future research topics.
The management of surgical infection is involved with many practitioners from a wide range of occupations. Wishing to improve the medical practice to be more team-based approach, this conference is organized for as many multidisciplinary practitioners to participate in.
The method of the conference will depend on the latest pandemic circumstances. We are looking forward to many participants to share knowledge regarding the management of surgical infection during the pandemic.
Hoping for the speedy and successful containment of the virus.
President of the 34th Annual Meeting of Japan Society for Surgical Infection
Toshihiko Mayumi
(University of Occupational and Environmental Health Japan: School of Medicine, Emergency Medicine Studies)
General Information
Title
The 34th Annual Meeting of Japan Society for Surgical Infection
Main Theme
The Management of Surgical Infection during the Coronavirus Pandemic
Method
Hybrid webcasting (subjected to change)
Date
Friday, December 17th - Saturday, December 18th, 2021
(Committee meetings on Thursday December 16th)
Venue
Kitakyushu International Conference Center
3-9-30 Asano, Kokurakita-ku,Kitakyushu, Fukuoka 802-0001
President
Toshihiko Mayumi (University of Occupational and Environmental Health Japan: School of Medicine, Emergency Medicine Studies)
Executive Director
Shigeto Ishikawa (Hospital of the University of Occupational and Environmental Health Japan: Emergency Department)
Program Chair
Katsunori Suzuki (Hospital of the University of Occupational and Environmental Health Japan: Department of Infection Control and Prevention)
Executive Office
University of Occupational and Environmental Health Japan Department of School of Medicine, Emergency Medicine Studies
1-1 Iseigaoka, Yahatanishi-ku, Kitakyushu, Fukuoka 807-8555
Tel: 093-603-1611
Fax: 093-691-7579
Management Office
Orbit Co.,Ltd.
101 1-5-31 Hikino, Yahatanishi-ku, Kitakyushu, Fukuoka 806-0067
Tel: 093-616-1417
Fax: 093-616-1418
Access
Kitakyushu International Convention Center
3-9-30 Asano, Kokurakita-ku, kitakyushu City, Fukuoka 802-0001
HP : https://convention-a.jp/kokusai-kaigi/
Access by Major Public Transportation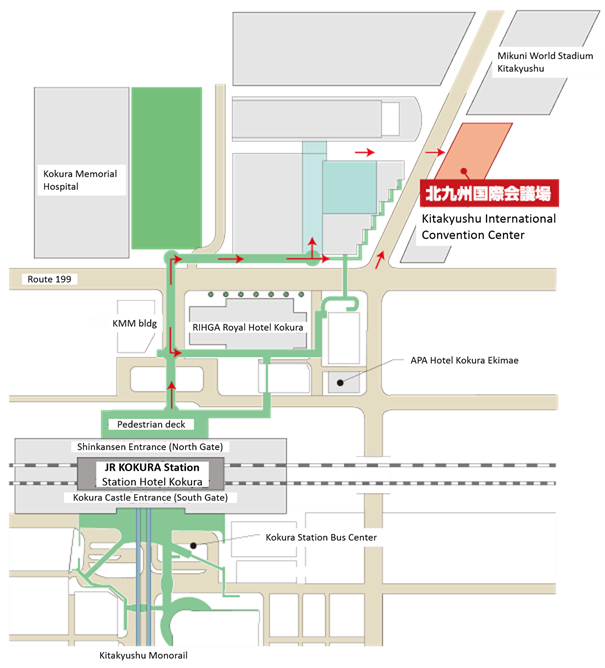 By Shinkansen
JR Kokura Station5-minute walkKitakyushu International Convention Center
From Kitakyushu Airport
Kitakyushu Airport 30 minutes by taxiKitakyushu International Convention Center
Kitakyushu Airport 40 minutes by Airport Bus Kokura Station Bus Center10-minute walk Kitakyushu International Convention Center
From Fukuoka Airport
Fukuoka Airport 5 minutes by subwayJR Hakata Station 20 minutes by Shinkansen / 50 minutes by Limited Express Train (Kagoshima Main Line) JJR Kokura Station 5-minute walkKitakyushu International Convention Center
Fukuoka Airport 1 hour 30 minutes by Nishitetsu Highway BusKokura Station Bus Center (get off only) 10-minute walkKitakyushu International Convention Center